2016 Nissan Leaf, 2021 Mustang Mach-E First Edition reserved
Discussion Starter
·
#1
·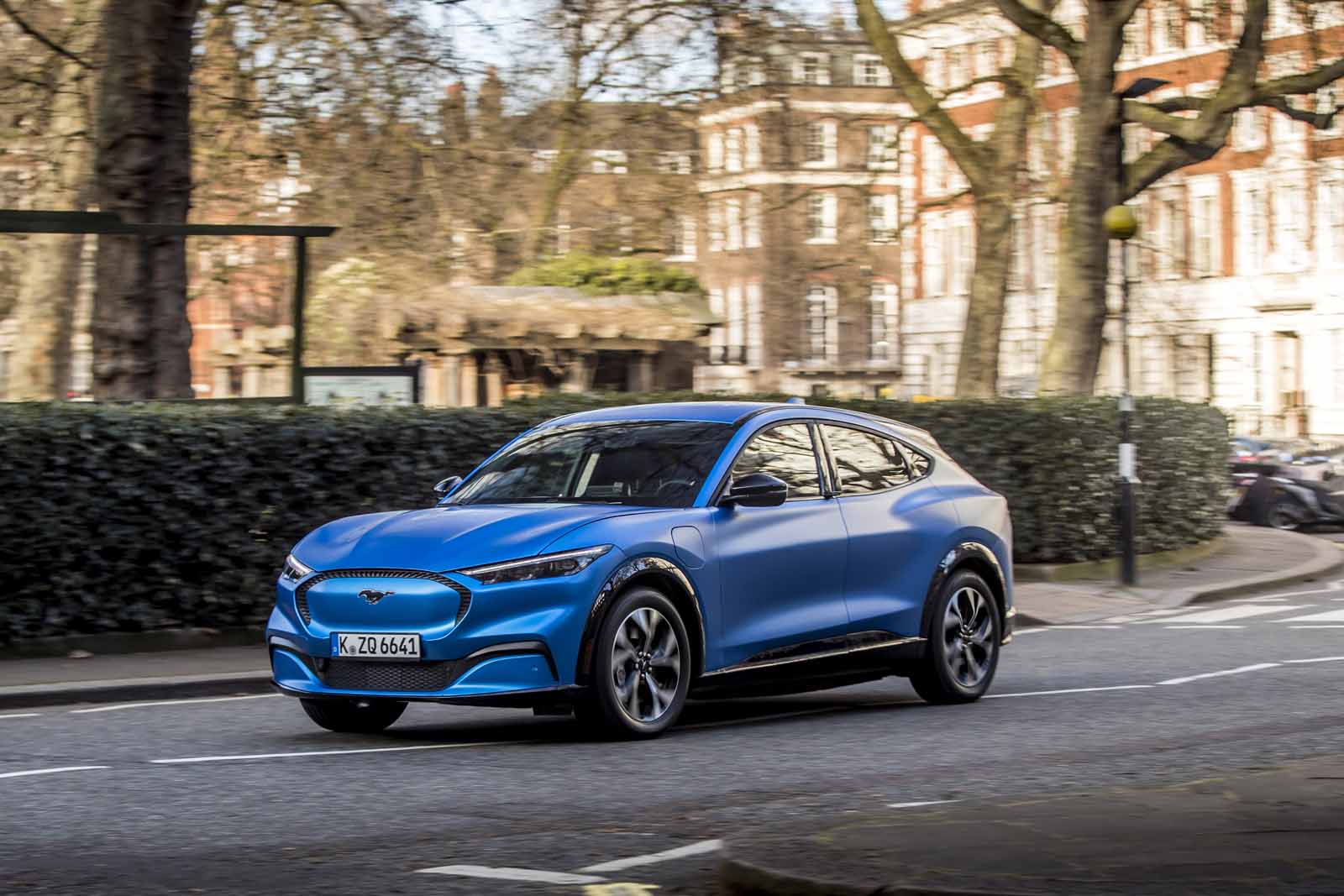 Electric SUV will be continuously enhanced after purchase through 'virtually invisible' over-the-air software updates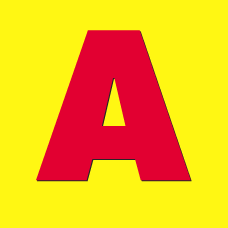 www.autocar.co.uk
Ford Mustang Mach-E to gain new features with wireless updates
Electric SUV will be continuously enhanced after purchase through 'virtually invisible' over-the-air software updates
by
Julian Rendell
18 May 2020
Ford
has detailed a new over-the-air update system that will continue to enhance its Mach-E electric crossover over the course of its life.
The wireless software tweaks can be made anywhere and are said to be 'virtually invisible' to Mach-E owners, taking less than two minutes in some cases. Complex updates that require more downtime can be scheduled for a convenient time, such as the middle of the night.
Ford expects the first round of over-the-air updates to be rolled out to Mach-E owners within six months of the first customer deliveries. Owners will be notified of the available update, which can then be activated using a wi-fi or cellular connection.
Pricing
The entry-level standard-range rear-wheel-drive Mach-E is priced from £40,270. It promises a "target range" of 280 miles from its 76kWh battery and puts out 254bhp. The extended-range version is £9730 extra and has a 99kWh battery pack for a 370-mile quoted range and a power output of 281bhp.
That price places this extended-range Mach-E just below the £50k threshold necessary to qualify for the £3000 government plug-in car grant.
The all-wheel-drive model starts from £46,750. With the 76kWh battery, its quoted range is reduced to 260 miles. The extended-range four-wheel-drive version starts from £56,950, with a 335-mile quoted range and a power boost to 332bhp. Pre-orders are being taken now, with a recommended deposit of £1000.
Design, platform and powertrain
The Mach-E is Ford's first volume-production battery-electric vehicle and the flagship for the launch of 18 mild- and full-hybrid new models scheduled to arrive by the end of 2021.
The
Tesla Model Y
rival is the first production car to emerge from
Ford's
Team Edison, a 70-strong Detroit group tasked with designing the firm's next-generation EVs. At launch. the range-topping version will produce 332bhp, with a full GT model making around 459bhp due at a later date.
Murat Gueler, Ford's Europe design chief, said the aim was to create "something special that stands out from the crowd", describing the new machine as "an EV with soul".
The new electric car has taken the Mustang title as the first step in expanding the nameplate into a full model line. The Mach-E moniker is inspired by the
Mach 1
variant of the first-gen Mustang.
The Mach-E UK order book is understood to be "healthy" and buyers who have expressed an interest will be locked into deals this summer, with many expected to be on the list for the high-spec First Edition models, limited to 10,000 units globally.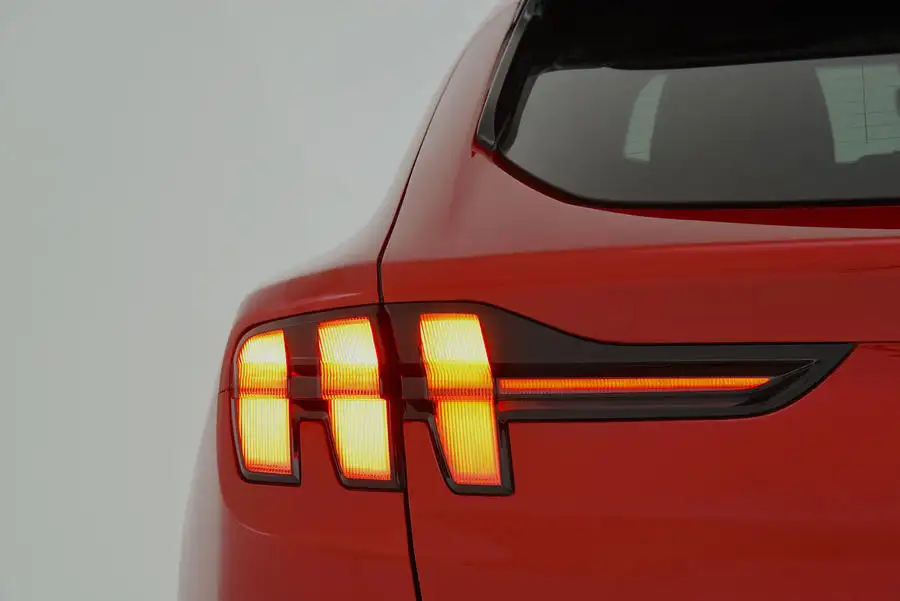 Ford's electrification drive includes Fiesta, Puma and Focus Ecoboost hybrid models, plus Kuga, Transit Custom and Tourneo Custom Ecoblue models. Most efficient is the Kuga plug-in hybrid, claimed to emit 26g/km of CO2 on the outgoing NEDC cycle.
By electrifying its volume-selling Fiesta, Focus and Kuga models, Ford estimates that it could save European motorists around £28 million a year in fuel costs. Ford is also promising to open 1000 charging stations at Ford "facilities" across Europe to speed up the introduction of plug-ins and battery-electric models.
"Infrastructure is critical to helping consumers have the confidence to go electric, but we can't do it on our own," said Ford Europe president Stuart Rowley.
The styling strongly links the EV to the regular Mustang, reflected in features such as the badge and front and rear lights, as well as several lines along the bodywork. Gueler said: "The approach was to put this car in a unique spot: only Ford can do Mustang. In the next few years, there will be hundreds of EV nameplates, but with Mustang we can load up with emotion and drama."
The car lacks conventional door handles, instead featuring buttons that pop open the doors and small holds protruding from the front doors. Owners can use their smartphones as keys, or use a keypad built into the B-pillar.
The Mustang Mach-E sports a more radical interior, with a wide dashboard featuring a Mustang 'double cowl' and built-in soundbar. The dash is dominated by a Tesla-style vertically mounted 15.5in touchscreen with a rotary dial fixed onto it using special glue. Many of the car's systems are controlled through the screen, which uses a new Sync 4 operating system that can accept over-the-air updates. There is also a 10.2in digital cluster for the driver, while the steering wheel retains a number of physical controls.
The Mustang Mach-E sits on a new Ford EV platform called Global Electrified 2, or GE2 – an extensively reworked version of the C2 architecture used for the latest Focus and Kuga. Gueler said designers had input into setting the platform's dimensions, both to set the wheelbase and to enable the extended bonnet, which is long for an EV but considered an iconic Mustang design feature.
The model will initially be launched with two battery pack sizes and three power outputs. The entry-level version will feature a single motor driving the rear wheels, with either a 75kWh battery and 254bhp motor or a 99kWh battery and 285bhp motor. Both produce 307lb ft, with a claimed 0-62mph time of under eight seconds and WLTP range of around 280 and 370 miles respectively.
The twin-motor all-wheel-drive version is offered with a 75kWh battery and 254bhp, or 99kWh and 332bhp. Both versions provide 429lb ft and a sub-seven-second 0-62mph time, with estimated ranges of 260 and 335 miles. Charging is available through an AC home charger or via DC fast chargers at up to 150kW.
The car is 4712mm long, 1881mm wide and 1597mm high, placing it between the
Jaguar I-Pace
and
Mercedes-Benz EQC
. Kerb weights range from 1993kg to more than 2218kg and all models will have a governed top speed of 111mph.
Claimed boot volume is 402 litres and there's a 100-litre waterproof front luggage bay.
Ford hasn't given a full range of performance figures yet, but Team Edison's Dorit Haas said it was "meant to be like a sports car". She added: "This is a performance EV. Not just in a straight line, but in terms of handling and agility – the ride is very important."
The rear-wheel-drive models will sit on 18in wheels, with 19in wheels for all-wheel-drive versions. Twin-motor machines gain adaptive LED headlights and red brake calipers, while limited-edition First Edition models also get a panoramic roof.
The Mustang Mach-E is being built in Mexico and is available to order now and will be sold exclusively online.